VERSICO ROOFING SYSTEMS
---
Versico has a wide range of single-ply roofing systems to meet almost any building design, from our EPDM line of VersiGard Roofing Systems, to our state-of-the-art thermoplastic line of heat weldable VersiWeld Roofing Systems or our PVC line of VersiFlex. With a full compliment of accessory products and warranties, Versico has the ability to solve all your roofing needs.

GENFLEX ROOFING SYSTEMS
---
GenFlex Roofing Systems is a leading, full-line supplier of high quality single-ply roofing products for the commercial roofing market. Thehir products have a strong history. With over 30 years in the single-ply industry, they bring native expertise to every product, system and accessory offered.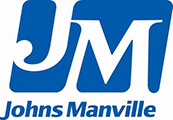 JOHNS MANVILLE
---
Johns Manville, a Berkshire Hathaway company, is a leading manufacturer and marketer of premium-quality building insulation, commercial roofing, roof insulation, and specialty products for commercial, industrial and residential applications. JM's product offerings include: Formaldehyde-free™ fiber glass building insulation, commercial roofing membranes and roof insulations, filtration media, and mats and reinforcements.

GAF MATERIALS CORPORATION
---
GAF Materials Corporation has grown to become North America's largest manufacturer of residential and commercial roofing. Professional installers have long preferred the rugged, dependable performance that only a GAF roof can offer, and have made it the #1-selling brand in North America.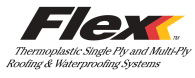 FLEX ROOFING SYSTEMS
---
Flex Roofing Systems offers state of the art roofing products including DuPont Elvaloy® KEE, Polyvinyl Chloride (PVC), and Thermoplastic Polyolefin (TPO) to the roofing market. Providing building owners with long term roofing solutions.